HOF WINDMILL'S SURE I'M SWEET
"AMY"
10/11/1985 TO 9/6/2001
ASCA #E25819
AKC DL491206/01
(FOUNDATION STOCK)
HOF CH. ARROGANCE OF HEATHERHILL, CD, STDd
&
CH. SWEET CONFECTIONS OF DIDGERIDU
---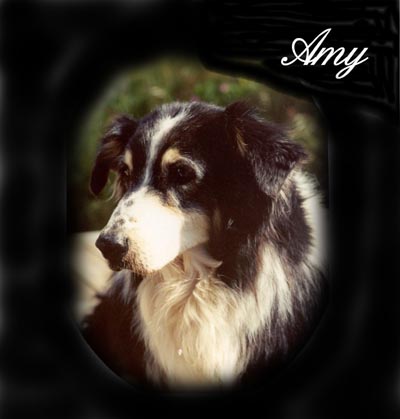 Click here for Amy's Smugmug Gallery
---
Through my years of breeding dogs, I would take a few years (or more) off from showing/training dogs and just enjoy them as pets. Amy was born during one of "those" times.
Amy was a great "Mom Dog." She would mother and protect any baby of any species. The last baby she raised is still with me — I had stopped at the gate to open it and found a neonatal kitten, maybe a few days old. It was cold and limp so I figured the feral mother cat would not be back. When I brought the kitten in, Amy immediately adopted it and the rest is history. Brea, the Aussie kitty, sleeps on my bed at night, snuggles up to the Aussies and I believe she thinks she is a calico Aussie.
Amy had only 3 litters and achieved Hall of Fame status. She is also directly related to every dog that put Windmill in the hall of fame.
Amy was the one that kept everyone and everything in order. No matter what it was, it had its place. Just try to let the chickens out of the coop. Turn your back and they were back in there. She came to the 1997 Nationals with me (she was 12 yrs.) and spent her time making sure any loose dogs around the camp were with their owner. I am sure she has everything running quite smoothly at the Bridge, too.



© 2006 Windmill Aussies - Kushaiah Internet - All Rights Reserved