Windmill Australian Shepherd's
History & Mission Statement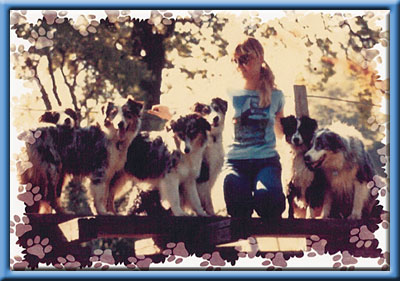 I first met this breed in 1965 when I was training and showing horses. I have been involved with the Australian Shepherd ever since. My first registered Aussie was purchased in 1978. I trained and competed in obedience trials for two years. During this time I studied the breed, genetics, structure/movement and acquired knowledge that would allow me to start a successful breeding program. My kennel name, Windmill, was registered with ASCA in 1978 and is now a permantly registered ASCA kennel name. Windmill is also registered with AKC.
I firmly believe that breeders should give back to their breed in the form of mentoring and volunteering. I am currently serving on the ASCA Board of Directors in the position of 1st Vice President. I am the past chair of the ASCA DNA and legislative committees and past member of the ASCA Hall of Fame committee. I have been a member of PASA, a local ASCA affiliate club, since 1977 and I am now a lifetime member. I am also a member of Delta ASF, ASC of MT. I have held all positions, from President to Affiliate Rep in PASA.
Windmill has produced dogs that have successfully competed in all areas of competition, generation after generation after generation. At ASCA National Specialties and pre-shows, Windmill dogs have received multiple Premier CH. Awards, high scoring obedience awards, brood bitch class placements, winner of the ASCA Nationals stud dog class, Best of Breed WTCH as well as multiple class placements in conformation, stock, obedience and agility. They have also placed in the top ten of the agility finals at multiple nationals. 2001 National Specialty Altered Best Opposite Sex was Ch.Windmill's Charmer For Lynn, CDX. She was 8.5 years old at the time of this win. ATCH, ADCH A-CH Windmill's Jinn Fizz has been to the ASCA agility finals twice and both times placed in the top 10. ADCH ATCH Windmills Daring Finley has also been to the ASCA agility finals and placed 3rd. At regional competitions, Windmill dogs have received multiple BOB, BOS awards as well as multiple High Scoring awards in obedience, agility and stock (multiple high in trial cattle, sheep and ducks).
All of my breeding dogs are micro chipped or tattooed, hips are OFA good or excellent, elbows normal and eyes are cleared yearly. They are MDR1, HSF4, DM and PRA tested and all are DNA profiled. In addition they all have full dentition and scissors bite. We are currently starting to do full panels of genetic tests, as they become available. My dogs are on a minimal vaccination protocol and fed a raw food diet. Puppies are raised, starting at day 3, on strict puppy enrichment protocol to ensure they are bomb proof and ready for life in their new homes.
My goal, from the beginning, has been to breed mentally stable, structurally sound, moderate, athletic dogs, capable of doing any task they are trained for. Longevity and health are key issues and will not be sacrificed to achieve these goals.
© 2002 Windmill Aussies - Kushaiah Internet - All Rights Reserved