<![if !supportEmptyParas]> <![endif]>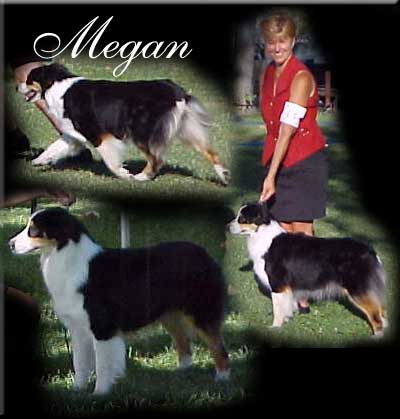 Click here for Megan's Smugmug Gallery


CH. MEGAN WAS CO-OWNED AND LOVED BY ALAN & JOYCE SMUDA


Ch. Megan was one of the "Windmill Hoodlums." She finished her Championship with 3-5 point majors. Thank you breeder judges Ann Atkinson (7/7/01), Sheila Polk (8/2/01) and to AKC judge, Leslie Earle (7/15/01) for these wonderful wins.

As a Special, Megan was only shown a very limited amount. She was almost always Best of Breed or Best Opposite.
My plan was to spay Megan after her 3rd and final litter and concentrate on training her on sheep and maybe trial her a little. Megan died 1/2 hour after whelping her final puppy. The offical cause of death was a compressed aorta(due to torsion). I still cannot believe she is gone. When I can finally deal with the fact that she is no longer with me, I will write the story of how Dare and Crissie adopted her babies. For now, words cannot express how much I miss her.
<![if !supportEmptyParas]> <![endif]>
<![if !supportEmptyParas]> <![endif]>
© 2006 Windmill Aussies - Kushaiah Internet - All Rights Reserved


<![if !supportEmptyParas]> <![endif]>