GOODNESS GRACIOUS OF WINDMILL
(9 asca points-2 majors)
"NESSA"
4/23/1981 TO 3/25/1995
ASCA #E9340
AKC N/A
HOF CH. HALLMARK OF WINDERMERE
&
AMAZING GRACE OF HEATHERHILL, CD


---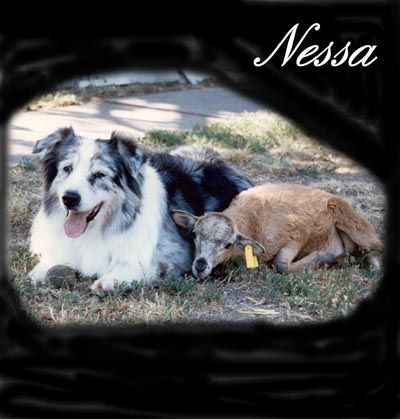 Click here for Nessa's Smugmug Gallery
---
Being a newbie to showing in conformation, I didn't know how to bring the best out in a dog. Nessa had 2 majors when I quit showing her. I had put too much pressure on her and she had shut down on me. If I had known then, what I knew a few years later, she would have easily finished her Championship.
Nessa is actually quite well known, but not known. Most everyone in Aussies owns, or has seen the blanket/throw, that has various Aussies on it. Nessa is the Aussie that is laying down, has a tennis ball between her front paws and a lamb at her side.

It all started when the last ewe of the lambing season had triplets and rejected one lamb. Since I had only one bummer lamb, I decided to bring the lamb in from the pasture and feed her in the kennel area. I named her Babalou. To make a long story short, Nessa sniffed her nose, her body, her rear and then her nose again. I actually think she shrugged her doggy shoulders and said "every baby needs a mother so I guess I am your mother." Nessa had a new baby.
Thanks to Pattie Wirries for capturing Nessa and Babalou on film. I had been throwing the tennis ball for Nessa over and over again. Pattie was amazed. Out went the ball, out went Nessa to get the ball, out went Babalou following her Momma dog. When Nessa was finally tired, she grabbed the ball, laid down with the ball between her front paws and down plopped Babalou beside her.



© 2006 Windmill Aussies - Kushaiah Internet - All Rights Reserved