<![if !supportEmptyParas]> <![endif]>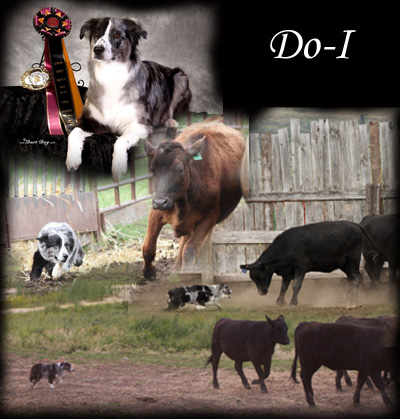 VIEW DO-I'S SMUGMUG GALLERY

Do-I was given to me by Pat Lambeth and I will forever be grateful.

Do-I continues to amaze me with her working ability and her outlook on life. She has become my go to chore dog as well as my soulmate.
2014 Texas ASCA nationals AZ pre trial, she won the open high combined buckle.
Do-I finished her WTCH at the 2015 ASC of MT Spring TurnoutTrial. She was high combined cattle on Sunday (winning both a.m. and p.m. cattle classes) and high combined non WTCH for the trial.

With a limited trialing career, she has garnered multiple high in trial award on cattle, sheep and ducks.
At the 2018 ASCA nationals, Do-I won her class and went on to win BOS-WTCH. Do-I was retired from trialing during the parade of veterens at the 2018 ASCA nationals. Shortly after that she earned her final farm trial title, earning her Stock Dog Championship.