HOF SVCH WTCH CH. WINDMILL'S NEED FOR SPEED, DNA-VP, JS-N-OP, JS-E-OP, RS-E, GS-E, OA, OAJ, OFTD-s, RA, ATD-Ms,ATD-X
"ZOOM"
DOB: 3/3/03 to 7/23/2018
ASCA #E127856/AKC DN0286601
AKC DNA Profile #V390976
Red Carrier
COI 3.7389%

CHIC# 22024(hips excellent, elbows-normal, eyes-clear)
MDR1 TESTED Normal/Normal
HEREDITARY CATARACTS-DNA TESTED CLEAR-NON CARRIER/Certificate #AC44
DM A/N Carrier

HOF WTCH. CH. LITTLE SPOT SPECTOR, DNA-VP
&
HOF CH. WINDMILL'S SWEET N SASSY, DNA-CP
---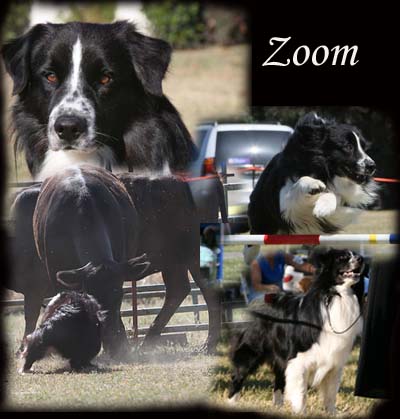 Photos: Raine Lutz and Glo Photos
CLICK HERE FOR ZOOM'S SMUGMUG PHOTO GALLERY
CLICK HERE FOR DOGS SIRED BY ZOOM
---
When I bred this litter the farthest thing on my mind was keeping another male. At 5 weeks of age it was evident that the little black bi puppy was staying. By the time he was 8 weeks it was clear he was a very, very special boy. From the time he was a tiny puppy he would watch everything I did. He would then try to copy it (such as pushing the handle to the spay nozzle so he could chase the stream of water). I have bells on my front door. After a few times of opening the door with bells jingling, he figured all he had to do was nudge the bells, make them jingle and the door would open (he was right and he trained me well).
When I decided Zoom was staying at Windmill I had no clue the path we would end up going down. The journey has been truly incredible and has formed a bond/partnership between us that I cannot even put into words. From the whelping box to SVCH. We are not stopping there.
Some of Zoom's achievements are:
THE ONLY SVCH/WTCH (AND BLACK BI) TO EVER WIN STUD DOG AT AN ASCA NATIONALS-2010 ASCA NATIONALS-STUD DOG CLASS WINNER
2010 ASCA NATIONALS WTCH DOG
2010 ASCA NATIONALS BEST WTCH
GOLDEN STATE SERIES-WINNER OF OPEN SILVER BUCKLE
MULTIPLE HIGH IN TRIAL AWARDS ON CATTLE, SHEEP AND DUCKS
ZOOM HAS PRODUCED CH., STOCK, AGILITY,OBEDIENCE AND RALLY TITLED OFFSPRING

Zoom is now retired and enjoying life on the homestead. He loves to gather sheep from the pasture and helps me sort and doctor sheep. Life is good.
On July 23, 2018 I made the difficult decision of letting Zoom go. He was still in good health but his body was failing him. I love and miss you Zoom, with my whole heart and sole.
Zoom is no longer standing at stud. I have a limited amount of frozen semen available.

© 2002-2009 Windmill Aussies - Kushaiah Internet - All Rights Reserved




Click logo to return home