WINDMILL'S LIVING LIFE LARGE,
"ZEST"
DOB: 04/18/2016
ASCA #/AKC DN45733003
COI 3.92122%
Full dentition/scissors bite
HC clear by parentage
MDR1 clear by parentage

WTCH RIVERBANK'S BAKER'S DOZEN PATDs, DNA-VP
&
WTCH TWIN OAKS DO-I, RTDcs ATD-Ms, DNA-VP
---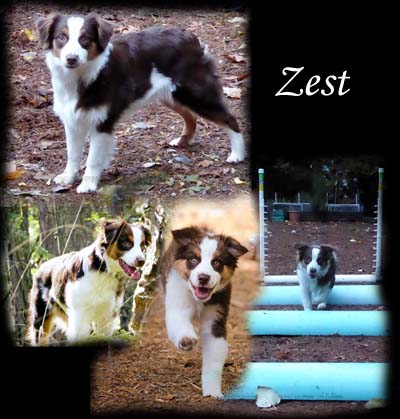 Photos:
CLICK HERE FOR ZEST'S SMUGMUG PHOTO GALLERY
Zest is such a sweet girl. I could use so many adjectives to describe her; biddable, thoughtful, fun loving, smart, playful, bratty, fearless and extremely photogenic. Don't worry; she has a naughty side as well! – if you need any holes dug – she is your gal!
I love her for so many different reasons; she is very respectful to other dogs young and old, great with kids, so fast to learn, and easy to be with. My other dogs adore her and have taken her into the pack. She is one of 'us' now.
We are currently going to Puppy Foundations for Agility and she loves classes, she can't wait to get into the room to show her stuff. So good with other dogs, she ignores everyone else and gives her full attention to the task at hand. We are currently starting jump grids and she is going to be a beautiful jumper.
Outside of that I am working on lotsa little tricks with her, mostly all have a reason behind them, such as core strength or hind end awareness eg, pretty, backup, figures 8's forward and sideways, etc. She loves food and toys - which is great, tuggy ones are the best!
Our favourite thing to do is get onto the trails in the forest and just be a dog and their person enjoying nature. She runs and jumps and enjoys every moment she has.
I am so looking forward to our future together and thank Gina for entrusting her to us.

---

© 2002-2016 Windmill Aussies - Kushaiah Internet - All Rights Reserved




Click logo to return home